RATRABBIT 2
THIS IS A FREE LISTING ON OUR BLOG ON HOW TO BUILD IT !
I was told by a customer once that "all your builds are too hard for some of us simple folk, and can you come up with an idea that is under £200" ….. so here we are, a spotting scope with the extras it needs !
Even though this is a short to mid range build (hence it's name) you have the ability to record and zoom with this baby, plus it's got an IR torch built in. This build I named after Drew (LAB) as he has come up with a new mount base design first, better windage and elevation turrets, not only that, you can keep the mount on your rifle so never loose zero while using the scope as a spotter. Its not as cheap as the Rat Rabbit, but the mount is worth the extra cost, Still under £200, no other near eye rifle scopes at that price to date !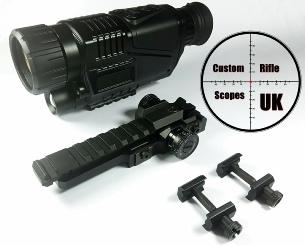 Specifications :-
Observe up to 200m in complete darkness

Take photos and record 10 minute videos ( Screen also has mini crosshair )

Fixed 4x optical zoom and up to 5x digital zoom

Built-in adjustable infrared illuminator

Robust, high quality construction

Video out for viewing images and videos on an external monitor

USB Connection for easy data transfer

Threaded tripod mount ( this is used to mount adjuster to rail, for your zeroing )

Powered by rechargeable Li-ion batteries

Field of View: 5 x 3.75

Objective Diameter: 40mm

Range (Low Light): 2m -
Range (Dark): 2m - 200m

86x65x200mm

Weight: 400g
Lets get building,
Your list of items
Digital IR Night Vision 5x40 4XZoom Monocular
Adjustable elevation and windage mount "ZB lite = https://customriflescopesuk.ecwid.com/ZB-lite-Pro-MK2-adjustable-zeroing-mount-weaver-picatinny-p155927959
Some weaver to weaver mount clamps = https://customriflescopesuk.ecwid.com/weaver-to-weaver-picatinny-to-picatinny-rail-adapter-mount-clamp-set-p66092008
INSTRUCTIONS, do we really need to go through this easy build ?
Just mount ZB lite your rifle then put the two small weaver to weaver mount on top of the rail, then put the spotting scope on top of those, then screw them up tight. Zero the mount at the range .....simples !